Have the Shetler-Corley Ford Parts Center Supply You with the Best OEM Parts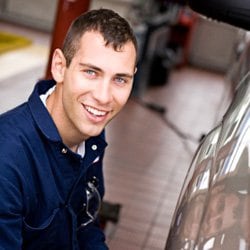 Ford vehicles are praised for their durability, and quality OEM parts are a big reason why. Equip any truck, car, or SUV from the lineup with genuine Ford parts from our fully-stocked parts center in Crowley, LA. Count on the Shetler-Corley Ford parts center for repair and replacement parts, authentic Ford accessories, and more. We use only the best OEM parts at our Crowley, LA Ford parts center!
Order Parts Online with Our Parts Request Form
The online parts request form makes it easy for Acadia Parish drivers to order OEM parts. Ford owners from Jennings to Kaplan can submit an online parts request to tell us which vehicle they're ordering parts for and which components they require. Provide a parts number or contact our Ford parts specialists in Crowley, LA with a call or click for assistance ordering OEM parts.
Popular Ford Parts to Order in Crowley, LA
Genuine Ford Batteries + Starters & Alternators
Tires, Wheels
Steering & Suspension Parts
Brakes
Filters - Cabin Air Filters, Engine Air Filters, Oil Filters, Fuel Filters, Transmission Filters
Genuine Ford Motor Oil & Additional Fluids
New Gas & Diesel Engines
Spark Plugs + Engine Parts
Transmission Parts - Transfer Cases, Torque Converters, Shift Kits, Clutch Kits, Bearings, etc.
Windshield Wipers
Exhaust Parts - Mufflers, Catalysts, Pipes & More
and more!
If Scott drivers are having starting trouble with their Ford, they can order a genuine Ford battery or additional electrical parts. Order spark plugs or a new engine for your Ford truck. Rayne motorists can replace their Ford SUV's windshield wipers or order a new set of tires.
Fresh brake pads and rotors give your Ford Mustang superior braking power rounding Acadia Parish corners outside Crowley, LA. It's easy for Kaplan drivers to replace their Ford's filters by ordering a new Ford oil filter, engine air filter, or cabin air filter.
Some Jennings drivers want to perform a DIY oil change. They can order genuine Ford motor oil and additional fluids in Crowley, LA! Ordering authentic Ford accessories online allows Crowley, LA drivers to customize their Ford inside and out.
Why Choose OEM Parts for Your Ford?
Genuine Ford parts leave Kaplan drivers with perfectly fitted repairs. These OEM parts match Ford models to a T.
Authentic Ford parts provide Scott drivers with superior quality that aftermarket parts can't match.
Warranties come with Ford parts you order in Crowley, LA.
There are genuine Ford parts for any need. Choose between repair parts, replacement parts, performance-enhancing parts, restoration parts, and accessories.
Have Ford Parts Installed in Crowley, LA by Scheduling Service Online
After Jennings drivers order Ford parts online, they can schedule service to have these components installed by trusted professionals at our Crowley, LA Ford service center. Thanks to ongoing parts specials, Ford owners from Rayne and Kaplan can save money ordering OEM parts.